Rascal
Builder: Brooklin Boat Yard
Launched: July 2020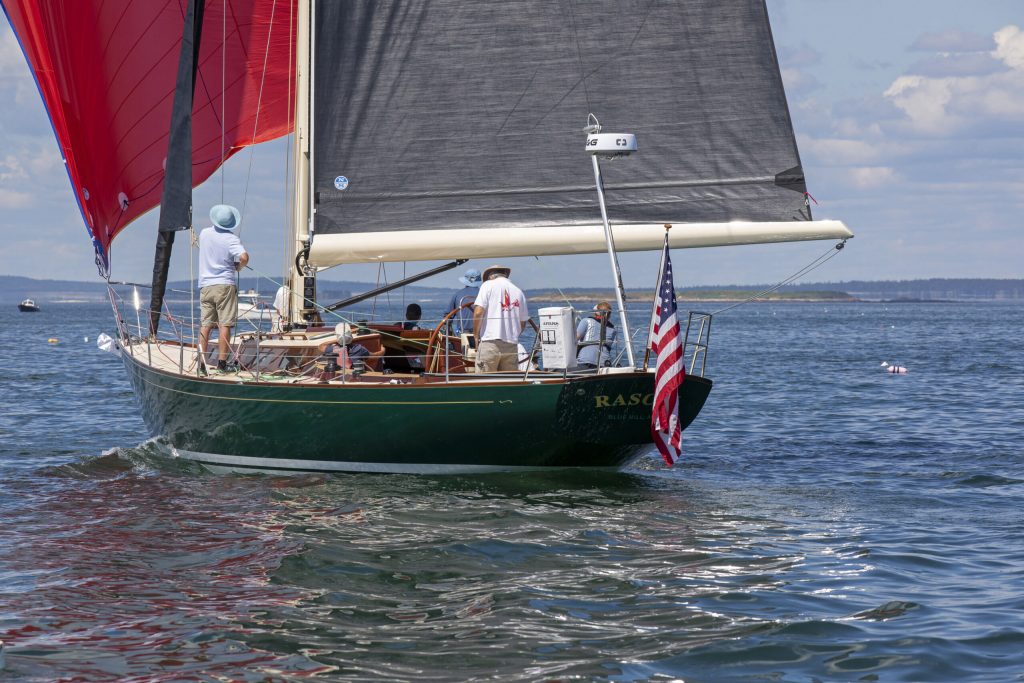 | | |
| --- | --- |
| LOA | 50′ |
| LWL | 35.1′ |
| Beam | 11.6′ |
| Draft | 7.8′ |
| Displacement | 16,000 lbs. |
| Ballast | 6,830 lbs. |
| Working Sail Area | 973 sq. ft. |
| Headroom | 6.25′ |
This new Brooklin Boat Yard-built, 50-foot, Jim Taylor-designed, racing / cruising sloop draws its lineage directly from previous Jim Taylor 49-footers DREADNOUGHT and BLACKFISH. RASCAL has enough in the way of evolutionary design changes and direction of sailing focus to warrant placing RASCAL in its own species, genus, and name within the sailing world.
While evolutionary changes and sailing focus of BLACKFISH were to make her more dedicated to straight-up racing than her predecessor DREADNOUGHT, for RASCAL the evolutionary coin has been flipped with a return to — and even more focus on — ease of sail, comfort, and "cruisability."
Probably the biggest and most notable evolutionary design change is the addition of 2 inches of topside freeboard and subsequent 1.5-inch addition to the height of the deck house.
From the outside these changes aren't immediately evident as RASCAL's graceful lines, dark green hull, and varnished mahogany house sides, cockpit coamings, and toe rails keep the exterior appearance very similar and visually near to the proportions of her older sisters.
Where these extra inches really come to the forefront is down below with additional overall space, comfort, and headroom, the latter of which is greatly appreciated by RASCAL's owner and his family who all tend (through their own human evolution) towards the tallish side.
To make RASCAL easy to handle, she has a well laid out cockpit with all sail control lines close at hand, all powered winches, electrically powered traveler, and a Bamar mainsail in-boom furling system. The spar and rig package is from Offshore Spars and the sail package is by North Sails.
Much can be made about the comfort and "cruisabilty" of RASCAL. However, like her older sisters (DREADNOUGHT and BLACKFISH), RASCAL is a force to be reckoned with when she does show up at the starting line. We won't be surprised to see her at the top of the leader boards in this next (and future) racing season here on the coast of Maine and farther afield.