Bermuda Fitted Dinghy Contest III
Design # 77; CONTEST III
Built by: Mark Lindsay Boatbuilders, Gloucester, MA
Launched: 1991
BERMUDA FITTED DINGHY; Perennial BFDA champion, representing Royal Bermuda Yacht Club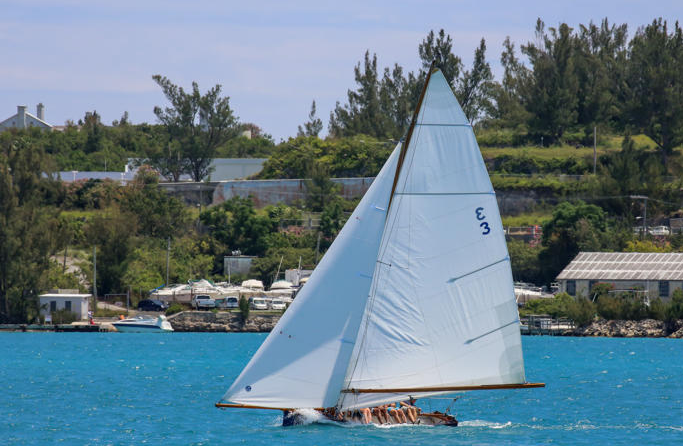 Contest III was designed in collaboration with her builder, the late Mark Lindsay. While some other well-known designers had seemingly focused on exploiting perceived loopholes in the existing Class Rules, Mark and Jim quickly agreed that in a tiny little dinghy loaded to the gunwales with the human ballast required to support her enormous saiplan, the first priority was keeping as much water as possible out of the boat. Design subtleties such as prismatic coefficient, form stability, longitudinal volume distribution, and hull rocker would all be tuned to suit that primary 'minimize swamping' requirement. Mark took responsibility for all the construction and layout detailing, and he and Jim take great pride in the fact that this little boat has seen so much success, and has brought so much pleasure to so many people, for so long.
From the RBYC web site:
Contest III  (Sail #3) was designed by Jim Taylor and built in Gloucester, Mass in 1990 by Mark Lindsay. She was delivered to the club in July 1991 and was christened by Nesta Pascal at a party on July 12th. Finishing off the season in 1991 she finished second to Challenger by such a close margin that the boat that finished ahead of the other in the final race won the Coronation Cup. Contest III completed her first full season of dinghy racing in 1992 and finished in first place, accumulating five firsts, nine seconds and two thirds.
Contest III continues to be the pride of the club, and is actively raced in the Bermuda Fitted Dinghy races held during the summer season starting on May 24 in St. George's Harbour.
Thoughts from Past Skippers & Crew:
Hubert Watlington: The best win of my life:
We were in Granaway the weather looked very changeable with a northeasterly at around 10 to 12 Knots, we had the number 2 on. It was late in the season the score was close for the overall. After the start the breeze started picking up and one by one boats started sinking, till it was just ourselves and Challenger with Paul Fisher at the helm. The last downwind leg was terrifying with the wind up to about 18knots or more and both boats planing and very close. Fisher, who is leading, attempts to jib Challenger and spectacularly goes down by the bow. We are alone with too much wind and having to do a jibe soon. Then like a bolt of lightning it comes to me, we can tack. We slowly tack with a lot of banging and slapping of sails, hoping the mast does not come out then struggle to the finish. What a great crew I had. That evening we had Fish cakes for dinner.
Andreas Lewin – Past Skipper
I have one story that stands out. My first race day ever when Gary Roman was Race chairman. Of course it involved a lot of drinking by Gary that led to a shouting match with Bromby (in Echo) in the 3rd race when there was a dispute about which side he should haul from (in those days they had discretion about which side to haul and tried to even it up during the day). Anyway after a heated exchange with Bromby (Bromby was winking at me the whole time) Gary parting yell was 'That's it! Final! I'm not going to argue anymore. You are on this side!"…. As Bromby and I laughed at the situation Gary's head reappeared over the side and he yelled "And another thing…"and went off for another 5 minutes. During the race Gary still had some things to get off his chest and, as Echo rounded the stake boat, Gary runs to the back. He pushes the spotter to one side and yells to Bromby, "SINK you [bleep], SINK!"……. Remember – this is the Race Chairman. I also found out later that during the start of the 3rd race – between yelling at Bromby, Gary was trying to fly the right flags for the course. He started with a discussion with the weather Stake boat about how far up etc and they decided on 3/4 or so. After arguing with Bromby he forgot the course so called the weather Stake boat on radio. They replied 3/4. Something else then happened (ice supply issue or something) and he went back to get the flags and forgot. Called the weather Stake boat again. Reply, 'It's 3/4 Gary!' Something else happened and when Gary went to get the flags, he scratched his chin and as he reached for the radio his mom says, "Gary it's 3/4" So Gary turns to his mom and yells, "Who is running this damn race, you or me!" Classic! Welcome to Dinghies.